---
Let the colors you see with your eyes fade away while you listen and allow the words form worlds in your mind – listen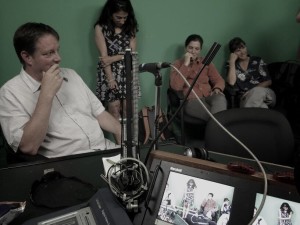 The Transom.org Traveling Workshop Catalina Island would not be possible with out the support of so many people and organizations.   Please take a moment to see our Thanks for the support of the workshop and all the help we get to keep the radio waves in the air.
————————————————————————–
2017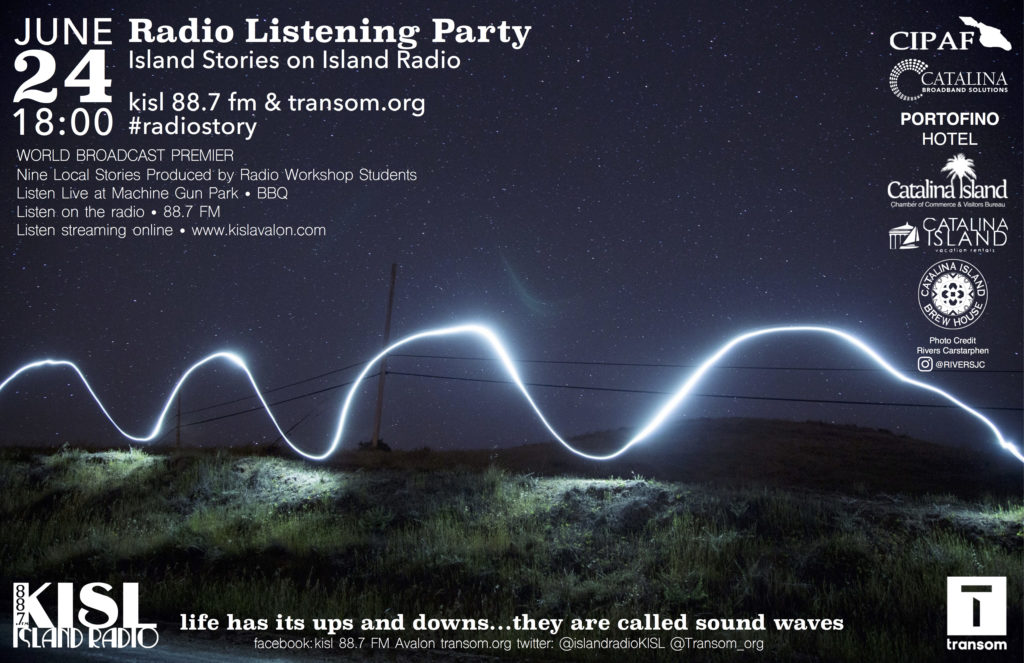 Listen to the live broadcast premier from June 24, 2017, 6:00 PM:
Carly Ciarrocchi isn't shushed by Morgan Pershing, the Avalon  librarian:
Siri Colom explores CATalina with Dianne Stone, with the Catalina Island Humane Society:
Max Miller figures it out with Matt Affolder, Escape Room Catalina:
Whitney Donielson glazes over with Sandy Putnam, Catalina Clay products:
Cat Jaffee flies high with Jad Davy, Director of the Catalina Flying Boats:
Diana Daly saves time with Dr. Peter Sharpe, protecting Bald Eagles with the Institute of Wildlife Studies:
Mary Franklin Harvin spends time with Dr. Richard Denney, Catalina's only veterinarian, with the Animal Clinic of Catalina.
Karim Sahli elects to spend time with Anni Marshall, Mayor of Avalon:
Lucy Copp patrols with John Hocking, Captain of the Avalon Sheriff Station: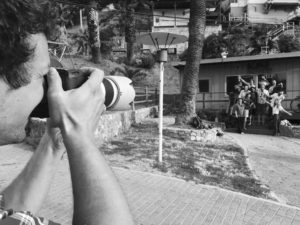 ————————————————————————–
2016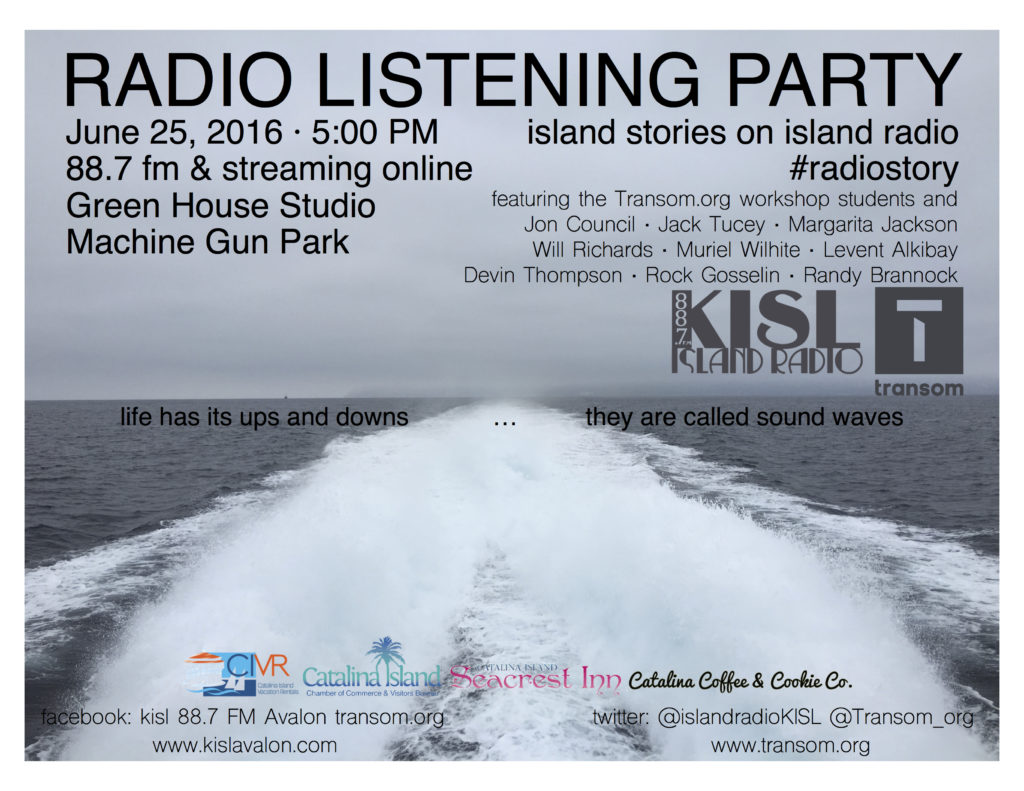 The 2016 Workshop!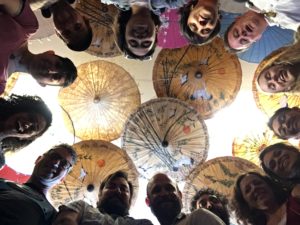 Listen to the live premier of the 2016 Catalina radio stories.
Ali Lemer delivers with Margarita Jackson
Stephen Nelson speaks with Devin Thompson
Tommy Oddone dives in with Jon Council
Paola Mardo serves with Muriel Wilhite
Alissa Escarce flows with Rock Gosselin
Julia Ferguson takes it back with Jack Tucey
Stephen Rickard paddles with Randy Brannock
Maureen O'Hagan finds it with Will Richards
Julene Iriarte pulls it together with Levent Alkibay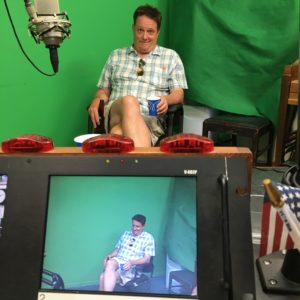 *********
2015
The Transom.org Traveling Workshop Catalina Island 2015 brought 9 students together to learn, listen, create and share another set of great stories from our island community.
Listening Party 2015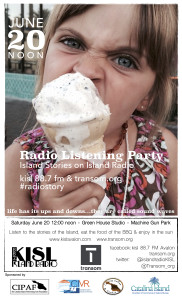 Listen to the premier of the 2015 workshop with discussion from the students, hosted by Rob Rosenthal of HowSound live from the Green House Studio:
Casey Martin talks to Avalon School Teacher Tina Newhard:
John King talks to Avalon Firefighter Jorge Hernandez:
Miles Yim talks to Avalon Harbor Patrolman William Flickinger:
Stephanie Pau talks to music writer/producer/teacher Jens Gad:
Julia Oliver talks to tour bus driver Miriam Djelidi:
Rachel Swaby talks to Port Captain Lorenzo Sampson:
Mervyn Deganos talks to the Vice President of Operations for Catalina Business Conrado Vega:
Neda Frayha talks to WWII veteran Marie Whittington
Danielle Thomsen talks to local handyman Charlie Canby:
********
2014
Transom.org brings the Traveling Workshop back to Catalina Island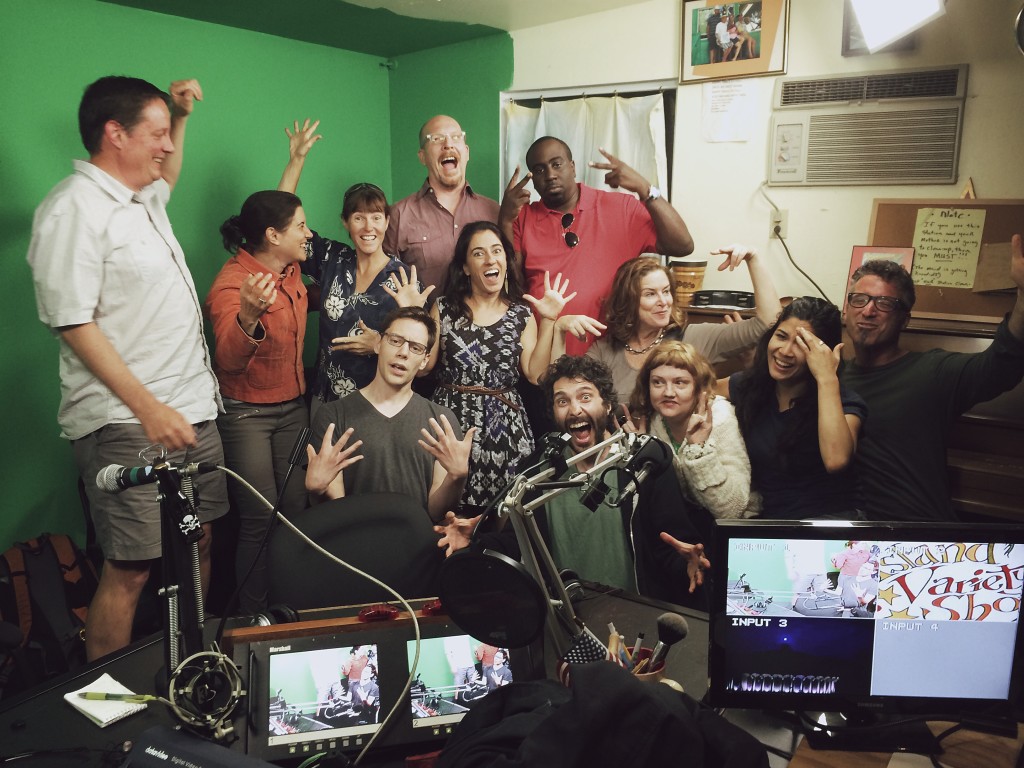 Listen!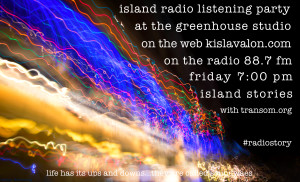 Listen to the entire Live Premier of the 2014 Transom Traveling Workshop broadcast on June 20, 2014 featuring discussions with the students who recorded the stories from Catalina Island with Transom's itinerant leader Rob Rosenthal, yes that Rob (we believe the rumors and wikipedia).
THE WHOLE SHOW! Listen below:
Chuck Lidelle greets Sheila Sarhangi:
Sean Brannock talks the theater of life with Cory Ruf:
Las Caballeras and Mary Stein by Cynthia Shelton:
Curtains for Stress by Barbara Paulsen with Ernie Rodriguez:
John Talsky reels in Chenjerai Kumanyika:
Robin Cassidy molds a story with Sarina Fong:
Mark Taska from the best seat in the house by Scott McLaren:
Isabella (Bella) Marill discusses Leaving Neverland by Vanessa Lowe:
Marshall Brown plays for Kate Sullivan:
********
2013
photos courtesy of Adam Lau
Transom Workshop 2013 shares some stories from Catalina Island.
Listen below for the full, live recording of the workshop's premier:
Code Fish by Anthony Gannon with John and Karen King of Afishinados:
I hate Street Performers by Carly Sabicer with Alex Morand:
Keeping Catalina by Jenny Radelet with Amy Catalano:
The Cart Men of Catalina by Alex Ward with John Regalado and Mike King of Catalina Yamaha:
Ride Malcolm Ride by Ariella Markowitz with Malcolm Jones:
Rocky Post Profile by Tatyana Safronova with Rocky Post of On the Wing Falconry:
The Bells Over Avalon by Nina Feldman with Jani Eisenhut:
Eric Huart Project by James Delahoussae with Eric Huart:
Lolo Piece by Camila Kerwin with Lolo Saldaña:
Jon Tusak by Adam Lau with Jon Tusak:
Now, we know this is radio, and don't misinterpret this, but we have made some videos out of these fantastic stories. You can always close your eyes and experience the original design, but we hope you enjoy!